I've seen some nasty Space Marines animations making them look like devs worked on eldar and orks (orks turned out awesome) and they didn't really pay attention to their trademark, Space Marines! Majority of DoW players are interested in the lore in which Space Marines were trained to kill early, (late primary school) and turned into loyal killing machines. And chances are that you saw many threads like this, but I feel like sharing my opinion too. I watched some DoW3 gameplays and Space Marines really looked like they didn't get enough love compared to their friends. One second shooting animation and them running swiftly in huge numbers (In DoW 2 we had 3 Space Marines in good armor, meeting them as scouts or imperial guard squad was a death wish, in DoW 3 we have 5 space marines wannabes, differences between races gameplay is really wearing off! Come on!) while we had longer and more detailed animations that we have now. I really doubt Imperial Guard will make it into the game or at least hope they won't be restricted to having 5man squads, because that's deppresing. Warhammer40k Dawn of Orks. They really steal the show! I love them being energetic just like in previous titles, specialy animations of so called "Deff Dread", I love how hes going on a rampage before he dies taking space grunts with him! Sadly I lost the source.
Sync kills, they're a must. These finishers... ( source: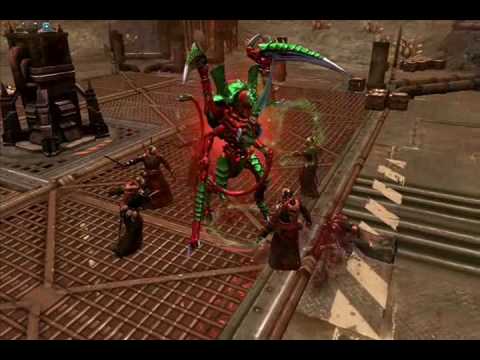 Because Relic downgraded Space Marine faction im worried that all these sync kills will be gone as well. They cut the animations and cut them so I expect many, many of them. Does have anybody have intel about final killing blows in DoW3 yet?