I think this game video demonstrates some of the problems with Ork gameplay that are making them somewhat overpowered in the early game.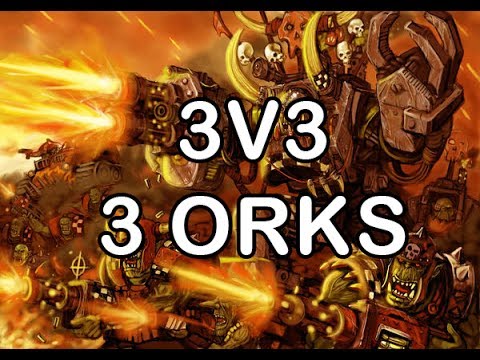 Good players are able to use Waagh Towers to make their forward bases extremely difficult to take down in the early game. These towers go up extremely quickly, and since multiple are proced straight away are very hard to deny. If a single tower and Boyz Hut survive construction, they're almost impossible to take down at the early stages of the game, especially since they provide reinforcement to Orky units (which is cheap in itself). It's difficult to tie Shoota Boyz up in melee because there are so many of them, and they have 44 DPS without the cooldown that Dire Avengers have which makes them a unit that's in some ways better than Tac Marines while costing significantly less to buy and reinforce. For Eldar, it is virtually impossible to fight while reinforcing because not having shields means quick death for their troops, and for SM this is not only more expensive, but more risky because they can't surround their buildings with Waagh Towers - you can see that two players can make a wall of 5-6 towers within 5 minutes, before even the first 3 point Elites.
I played as Eldar in this match, and was a lot of fun, even if we had to accept that we had gotten owned by about 10 minutes when the Nobz came out. But since this game was vs. 3 orks on a single team, it is a good illustration of the way the global abilities and unique mechanics of the races are unbalanced. Eldar and SM would need some T2 heavy units to deal with an army surrounded by Waagh Towers, meaning a good Ork player can rely on being almost invincible between around the 5 minute mark and 12 minute mark, with very little risk to placing his structures as he pleases. I can't see a realistic counterplay for this as it stands.
If anyone wants to tell me to git gud instead, and has some tips, I would be grateful, otherwise I expect I will be seeing a lot more of this in matchmaking