I recorded a video demonstrating this issue: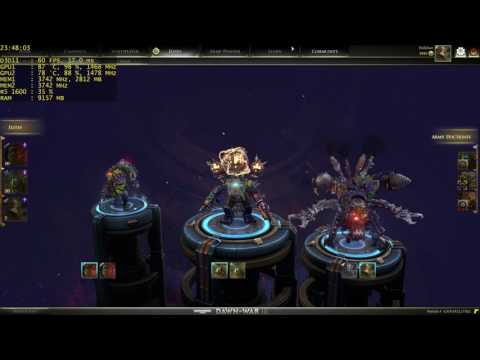 My system:
AMD R5 1600
GTX 980 4GB 2x SLI
Game is installed on an SSD
Windows 10 64 Bit
Resolution is set at 3840x2160.
For some reason at 4K the game starts consuming a huge amount of extra video memory when certain UI elements are on screen, which causes the framerate to choke completely. This happens in the various areas of the menu, but more importantly it happens whenever the power core is attacked and the health bars "activate" which significantly harms performance during a match.
This video memory spike does not occur at sub-4K resolutions for me. Using the resolution scaler to run 50% or 66% however does not resolve it, only manually lowering the resolution does.
There was some menu performance stuff that was fixed in other patches, but this stuff is still persisting.
After further testing, this issue still occurs in Single-GPU mode, so it isn't SLI related.
It's purely an issue of the 4GB vRAM limitation and the UI chewing through all the vRAM despite the game itself usually using around 3-3.5 GB.