Hello,
My grow Dawn of war gameplay focused Youtube channel has manage to acquire 100.000 view.
Because you guys supported me to reach this number, I want to a Dow3 CDKEY giveaway.
In order to take part in this raffle you have to comment in anyone my 500 + videos (95% are focused on dow3) and highlight a specific moment from one of the videos using the 00:00 timeline reference system within the Youtube comment system.
I will make and update daily an excel list with all the Youtube accounts that commented.
The file is available at the following link on my dropbox (You can also download it to see your number position since I`ll use the standard numbering from excel to pick the winner)
https://www.dropbox.com/s/xjxuifum2km2xjr/dow3-giveway-26august.xlsx?dl=0
I will use random.org website to pick the winner during my 26 august stream. Keep in mind that people who will do more comments will receive extra slots in the raffle, the extra slots won't be 1:1 (1 comment = 1 entry cause people will spam it then and I'll have a hard time keeping the list up to date) but I have some viewers that already started to highlight some of the moments within my games and I want to support people that.
I have detailed this giveaway system in my latest stream so if you don't understand how the system will work feel free to go the 1:35 minute mark in this video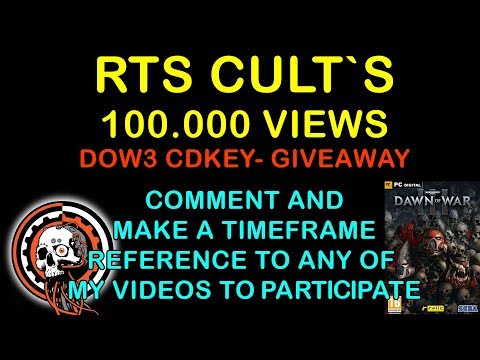 Hopefully somebody that doesn't have dow3 will win, but even if you own a copy feel free to take part in this raffle!
My channel has grown and I make around 10$/month of revenues, also I won a CDKEY on the 3v3 tournament supported by Relic (I got in a twitch raffle and was lucky enough to win it, there were like 30 people that took part in that, and they did 10 giveaways). So the 1st key for the 100.000 views will be the one that I won on dukejason`s stream at during the 3v3 tournament.

Unfortunately I didn't take part in that tourney since my teammates decided to stop playing dow3, but hopefully I will find a new team for the next one.
I intend to make more giveaways more often now that my channel has started to generate some revenues.