There's going to be a lot of threads about various factions people want in, and we have a Chaos and Tau thread, so I've decided to jump in at the deep end and start a discussion about Tyranids.
Who would like to see them return? Why would you like to see them return? Alternatively, would you rather an iteration void of Tyranids, and why?
Demand is always a valuable resource to developers. It's obvious VERY EARLY DAYS and could be considered a pointless discussion, but there is never too early to discuss a race. This is a 40k after all, and I think having a thread on races is beneficial for developer plans as well as getting the community together to discuss and share ideas on their favourite races and factions.
So in my critical analysis thread I mentioned that Tyranids were not done justice in Dawn of War 2. I specifically mean the multiplayer in this case - The Tyranids are a numerous and expendable force, guided by the will of the Hive Mind. Synapse creatures act as a link to the network that forms the Hive Mind. This means that in battle, synapse organisms are often protected by huge swarms of Tyranid Gaunts, and within range of the synaptic link, the lesser Tyranid creatures become cunning and display the intelligence to carry out various battle plans. Once the synaptic link is severed, the Gaunts revert to an animalistic state in which they are likely to become erratic, flee or fight for survival. In Dawn of War 2, this was handled a little simpler by the synaptic shockwave shockwave system, as well as the various stat buffs given by synapse creatures. If Tyranids were to ever emerge in Dawn of War 3, I would love to see this expanded into the idea of breaking the link that allows the Gaunts to be controlled.
Tyranids have had Knight counterparts for a while now. The smaller bio-titans have been wreaking havoc on a tabletop near you ever since the release of the Hierodules.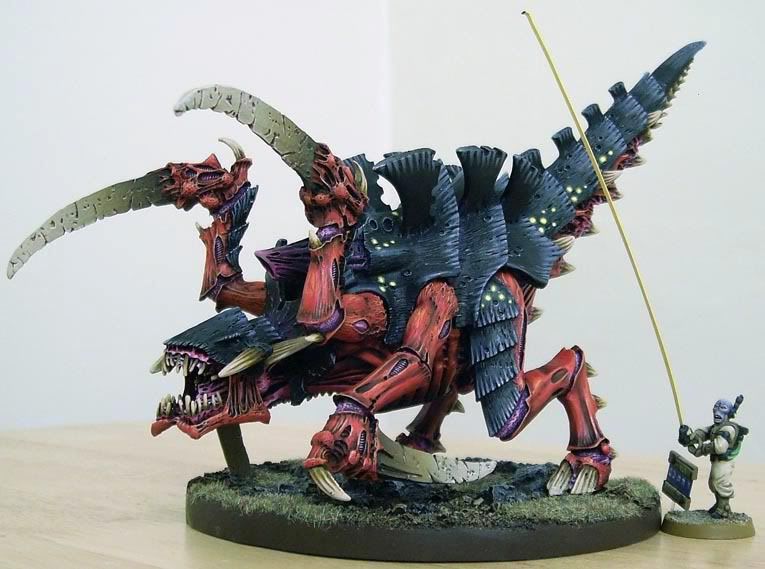 These are big creatures. The above example (Painted by Gareth) is the melee variant, and a ranged variant also exists. They exist to plow holes through armour and infantry.
The other smaller bio-titans include the Trygon, which is essentially a huge version of the Ravener Alpha from DoW2 in that it created enormous underground networks from which Tyranids emerge. Trygon's are often implanted on planets very early into invasions to create the networks from which sieges will take place.
And the most recent addition which seems like a direct answer to the knight, the Dimachaeron. The Dimachaeron are fast, long-striding creatures, armed from head to tail tip with horrifying weaponry.
So these are the 4 "Knights" of the Tyranid force. On top of that, since Dawn of War 2's release we've had a myriad of releases mainly consisting of larger-scale creatures added to the backbone of the Tyranid force.
Hopefully some Tyranid fans will drop in to discuss.