Hello everyone. I wanted to share some of my thoughts about the released gameplay footage how the community is reacting to it.
First of all, a disclaimer. This is not a critique on negative opinions, or the attacks of a fanboy. My intention is not to ridicule anyone's opinions: everyone has the right to think whatever they please, and it's normal to have different opinions. I merely want to try and talk objectively about the gameplay footage and give an advice to the fans and the devs.
That said, let me briefly present myself. I'm a huge W40k fan since almost 9 years ago (when I first played Dark Crusade), from tabletop, novels and videogames. I've played every DoW game and loved each and every one of them, as well as Space Marine, Fire Warrior, Battlefleet Gothic Armada and Eternal Crusade. I'm also a fan of the "pure" RTS genre: one of my childhood games was Conquest Frontier Wars, and I played RTS games like Homeworld, Starcraft 2 and Grey Goo. I've also played a few MOBAs: League of Legends and Fractured Space. I know the huge differences not only between both genres, but also between each game within each genre.
To say I am hyped about DoW3 would be a huge understatement! I want it to succeed so bad; I loved the whole DoW series and how each one brough different mechanics and playstyle on the table, while letting me play in the W40k universe. When I saw the gameplay footage in E3, I loved it to bits (although I do have a few issues, more on that later); the screenshots we had got before didn't make it justice.
I've seen the concerns shared in all forums and I do share some of them too, but I think some of these concerns are being either too pessimistic, or maybe the result of jumping into a wagon with everyone else, rather than analyzing it by oneself, objectively. Especially for a game in Pre-Alpha. Let me go over each of the most important issues raised, and use this video as an example for all of them: please watch it before continuing your read if you haven't already.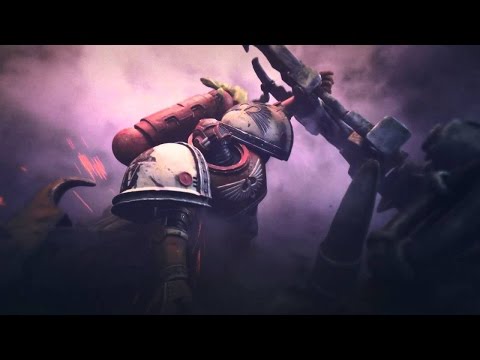 1) Too MOBA-like: cartoon graphics, over-the-top animations
First, I do agree that Angelos shouldn't be jumping around that much while wearing such armor. He's obviously not your average Space Marine, and he was probably repaired after the DoW2 ending, but I would prefer him to charge in a straight line instead, maybe ending with a short forward leap and smashing down with his hammer. I think that would be less "over the top" for a Terminator-like armor. In this video, the devs stated they wanted to use abilities to use the verticality of the maps (verticality in maps sounds awesome to me), so I can understand what they wanted to achieve, but I'd prefer them to use a different approach for that.
Now, the cartoony graphics. After playing DoW2 and League of Legends, I can only say they are not cartoony. Let's take League of Legends gaemplay as an example. In LoL, models are simplified, using comic-like proportions instead of realistic ones. Models and textures don't react to lightning levels: shadows are merely shades in the textures, textures have no metallic reflections, models have a black outline which becomes bright when one hovers the cursor over them... About animations, they are very fast and flashy, making them brief and easy to identify. In the meanwhile, in DoW3 we have realistic proportions, metallic reflections, interaction with lightning, no outlines... ragdoll physics, less exaggerated/flashy/fast animations, etc. I've got the impression that the lack of cast shadows in the ground and ground detail (and the constantly moving camera) make it seem more cartoony, but this is Pre-Alpha after all: if you look closely, dead Devastators are replaced by static models, and dead Wraithguards are replaced by Viper wrecks. There's still much to do in all levels -graphics, animations, gameplay- and that can solve many of the issues raised.
I do agree some abilities we've seen, like Angelos' and Dreadnoughts' smashes, may be too flashy for what they are: I would prefer more dirt like in DoW1&2. But all other animations look much more realistic that League of Legends ones: plasma has a bluish-pinkish-white brightness that hurts the eye (as it does in real life), explosions and flamers leave units and ground on fire, dead units drop dead, are cut in half or explode, their remains sent ragdolling around while blood stains the earth, corpses remain as well as wrecks, hot air is animated as well, etc. A MOBA like League of Legends does not give so much detail, at all.
To sum up this point: while Angelos' animations and some Dreadnought ones look too flashy, the general graphics are actually far away from being as cartoony as they usually are in a MOBA like League of Legends. In fact, they're closer to DoW2 ones, if you toned those down a bit to allow DoW1-sized battles.
2) MOBA-like/Starcraft-like mechanics
I have to say the footage we have seen does not shown the UI we would have when playing normally. We have unit icons, but that's about it. We don't know how would players interact with the game, how do they use unit abilities, how do they issue orders, how does base building work, or resource gathering. I've got the impression many people saw other people claiming MOBA graphics, or wrongly interpreting the devs stating "they got some inspiration from MOBAs" as "they want a MOBA/RTS hybrid", and inmediatly jumped on the wagon as well without stopping to reach their own conclusions or realizing we have very little info on how does it play: after all, the footage is only an in-engine representation of the action, nothing else.
After playing the whole DoW series, other RTS including Starcraft 2, and some MOBAs including League of Legends, I think the playstyle is going to be much closer to what we're used to in DoW. We've always had regular units and some elite/hero ones, and some units could use powerful abilities. Abilities usually require some reflexes to use in the perfect moment, but it's not as critical as it is in a MOBA, or in a fast RTS like SC2. Abilities wouldn't be the center of the playstyle, but an augmentation. I believe that's and important distinction. In the same way, I highly doubt APM (usually connected to eSports) will be the way to go in DoW3. Remember we've just seen a campaign mission, in particular the introductory one: it's designed to be "easy" for the Space Marines. I have no doubt the Eldar will be very powerful in their own way, but not in such mission.
To sum up this point, we've seen too little to actually discuss playstyle, and comparing it to my personal experience with SC2 and LoL, I don't see DoW3 to be any closer to those games than previous DoW games would be.
That is all for now. My advice for the community is to not take other people's impressions as your own before analyzing things by yourselves (not "jumping on the wagon"), watching both DoW3, LoL, SC2 and DoW2 gameplay for comparing graphics and playstyle, and always remembeing we only saw a Pre-Alpha (which means it's incomplete in many levels, not only gameplay but also graphics and animations, and that it can still be changed). My advice for the devs is to communicate with the community as soon as possible (I'm aware E3 has yet to finish), stating you've taken the feedback and that you will make changes according to that, while remembering the community it is still Pre-Alpha, pointing out what things are incomplete, and above all, directly addressing the community with a dev blog rather than realying on interviews you took from magazines.
And before closing, let me remind you all we will see more footage a few days after 20th June (I don't remember the exact date, but they said it on E3)!