I played table-top growing up. I love Relic strategy games. I've played every homeworld iteration, including Cataclysm, and adore CoH. I'm also a huge SC2 eSports fan, and have been playing it since 2010. I'd like to discuss why the devs have brought back base building and why they have chosen their simplified in game art style.
First lets start with two facts: 1) the most popular RTS game by-far is StarCraft 2. 2) All the Dawn of Wars combined have less players playing them than the Age of Empires 2 HD re-release.This is a problem because w40k is literally the most epic sci-fi base material you could ever wish for, and then some, and Relic's developer pedigree speaks for itself. DoW2 was a good game, but not by modern standards.
Dawn of War 1 and 2 uses a now-obsolete RTS game model: a single player experience with multiplayer support. Player appeal is limited. Newer games improve on this in every possible way, using the game/franchise as a platform to offer a smorgasbord of game modes to appeal to everyone: epic story driven campaign, co-op and multiplayer, arcade and map editor toolsets, and competitive 1v1 ladder with observer/streamer tools. Now relic makes some pretty ++heresy redacted++ epic single player campaigns, but relic devs have 0 experience developing the other things, at least to a modern standard.
So going back to the two original questions: Why base-building?
Base building simply adds more to strategy than any abstract system ever could. You may disagree, but you are simply wrong. You may argue that it detracts from the action, but that is largely up to the player. Here is a FPVod of Maru (one of the best Terran players) playing SC2: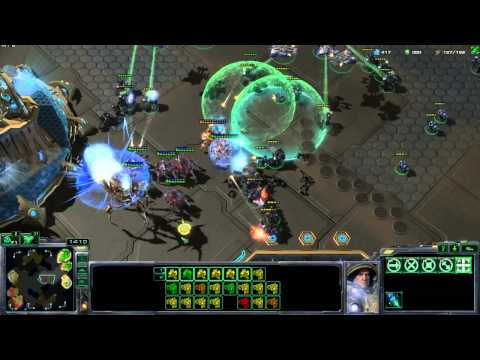 . Notice how he spends little time looking at his base, yet perfectly manages it with hotkeys and camera binds. That is skill, and skill is engaging. Skill doesn't finish in 4 hours like a campaign inevitably will. Skill retains players, it gives them reason to come back for more. Dawn of War 2 evidently does not.
Base building is also the single most elegant way of expressing the real-time, strategic decision making that happens between opponents. It blows DoW2's wargear and Victory Point systems out of the water. Chess has turns, the board, and different pieces which interact differently in order to create a thinking game between players. RTS games have units, buildings, tech, resources and time to create this same game-space. Buildings are an in-game manifestation of strategic decision making, they not only represent resource and time commitment, but also interact with the pieces. That is exciting. Base building expresses the back and forth of decision making and control more vividly and intuitively than any abstract system ever could. To throw all that away to make it easier to watch pretty battles kills what is most engaging about a strategy game. As SC2 clearly proves, there is no reason we cannot both have this staple RTS mechanic and interact with all the action on the battlefield.
Which brings us to why the simplified in-game art style?
Simply because it reduces visual clutter and enhances clarity during battle. It makes managing battles more responsive, more satisfying, and thus more engaging. It takes all that intuitive strategic goodness and works with it, rather than distracting from it. That is good game design. It might not be the flashiest, cutting edge video graphics, but it does make a better game. Indie games and that fat golden goose, Nintendo, have proven time and time again, you do not need bleeding edge graphics to create an engaging, cinematic gaming experience. It is more the result of all the different elements of the presentation working together. That and a strong dose of nostalgia never hurts.
This being said, I am sure the campaign and customs/last stand mode will have less base building (like SC2 allied commanders co-op) and more epic, cinematic moments. I highly doubt Relic would skimp on their single player campaigns, they are simply too good at it to pass it up.
I would also like to mention pre-game Hero picks. This mechanic just moves decision making outside of the RTS game-space into the pre-game lobby. That is bad, it detracts from the strategy potential. Of course it depends on how exactly they choose to implement it, so it remains to be seen. However I think a safe bet would be to include a hero building like WC3's Hero Altars.
In closing, Relic is taking the steps to bring the DoW franchise up to par with modern online games. They want more people to play a w40k game. They want more people to keep playing it. They want to make more w40k content. This is ultimately better for everyone involved.
Please, make your arguments as to why base building shouldn't be in the game, why cutting edge graphics is necessary for a satisfying w40k experience, or why DoW2 and elite mod are good, competitive-RTS experiences by modern standards, and in each case I will elaborate more on why you are categorically wrong - with examples.